Young Adults Community Group meets on Zoom, Sundays at 7pm for the duration.
Join Zoom Meeting
https://zoom.us/j/960238800


---
Young Adult Women's Bible Study meets every Wednesday evening via Zoom (during this season) from 7-9 pm.
This is a group of young ladies in their 20s-30s seeking a deeper relationship with the Lord, knowledge of His word and community with other women in similar stages of life. We exist to encourage one another in our walks with Jesus. A place share life's joys and hardships in a safe environment. Throughout the year we utilize Bible study books, study different books of the Bible and have women from the church come as guest speakers to share their wisdom with us.
Join Zoom Meeting
https://zoom.us/j/133165536
---
Young Adult Men's Bible Study meets every Saturday morning via Discord (during this season) from 10-12 am. This is a group of young men in their 20s-30s seeking a deeper understanding of God's word and accountability in their walk with God. Our goal is to be a place where we can discuss difficult topics and be vulnerable with each other while fostering an understanding environment. We follow a verse-by-verse expository study style and work through books of the Bible.
For more information on how to join, contact Benjamin Tartter ( / 914.474.9388) or Rob Rodriguez ( / 917.805.1412)
---
Shelter Rock Young Adults Ministry is for high school graduates and up. Our vision is to see young adults discover, own, and thrive in their faith. We want to help people fulfill God's purposes for our lives of evangelism, fellowship, worship, discipleship, and ministry. We seek to accomplish this through three expressions …
Spiritual Growth (Worship & Discipleship)
The Shelter
One the first and third Sunday of each month we meet at Central Presbyterian Church in Huntington from 6-7:45pm. From 6-6:30 we enjoy coffee and pastries while having time to connect with one another. From 6:30-7:45 we have our service which consists of contemporary worship, dynamic speakers, and a time of altar prayer ministry. After service people often go in groups to some of the local restaurants in Huntington or stay on campus to connect and build relationships.
You can find more information at The Shelter Website.
Sunday Night Connection Group
On the Sunday's when The Shelter does not meet we still do! From 6:30-8:30pm we meet in the YAC (Youth Activity Center) located on the SRC Syosset Campus for a time of worship, a message, discussion, and prayer.
Campus Ministry
Many of our young adults are in college, and we encourage them to be a part of the campus ministry at their school.
Annual Retreat
Each year we go away for a weekend retreat to have a special encounter with God and to grow in our relationships.
Community (Fellowship)
Regular Fellowship Activities
Always a lot of fun, some of our past activities have included bowling, coffee-house nights, going to the beach, shopping, apple-picking, going to the movies, and going out to eat.
Outreach (Ministry & Evangelism)
Local Community Service
Throughout the year we plan times to go out and serve our community. Whether cleanup, light construction, helping someone move, or feeding those in need, we want to join together to express the kindness of God in practical ways.
Missions Trips
We also participate in Shelter Rock Church's annual missions trips.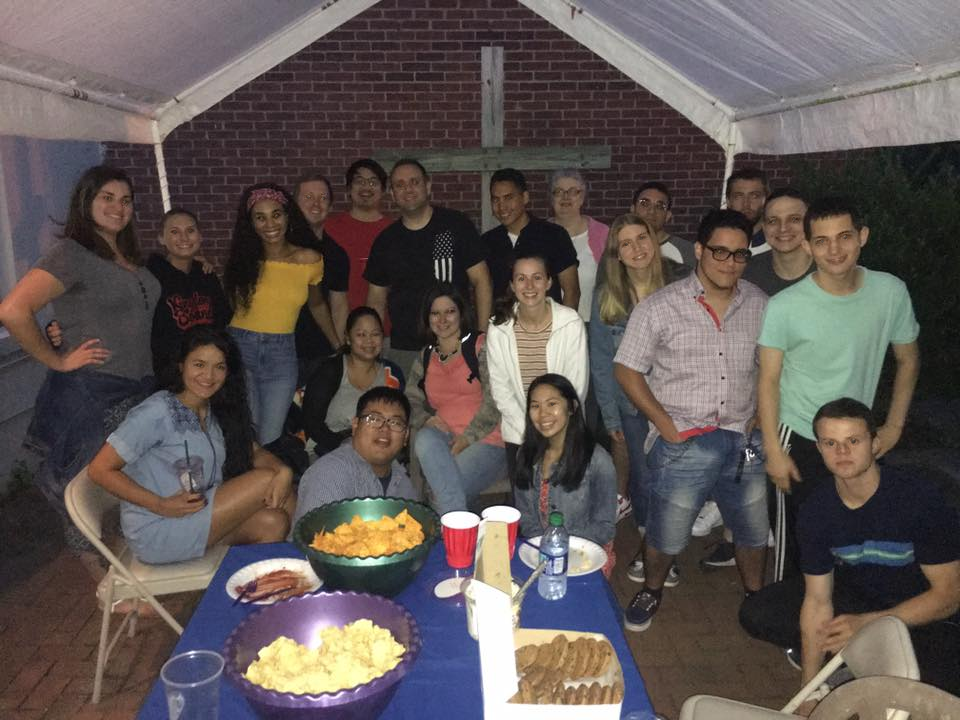 Contacts:
Mark Santiago, Ministry Coordinator


Follow us @ShelterRockYAM on